Dallas
TCU fans opt to drive to Arizona as Southwest Airlines problems persist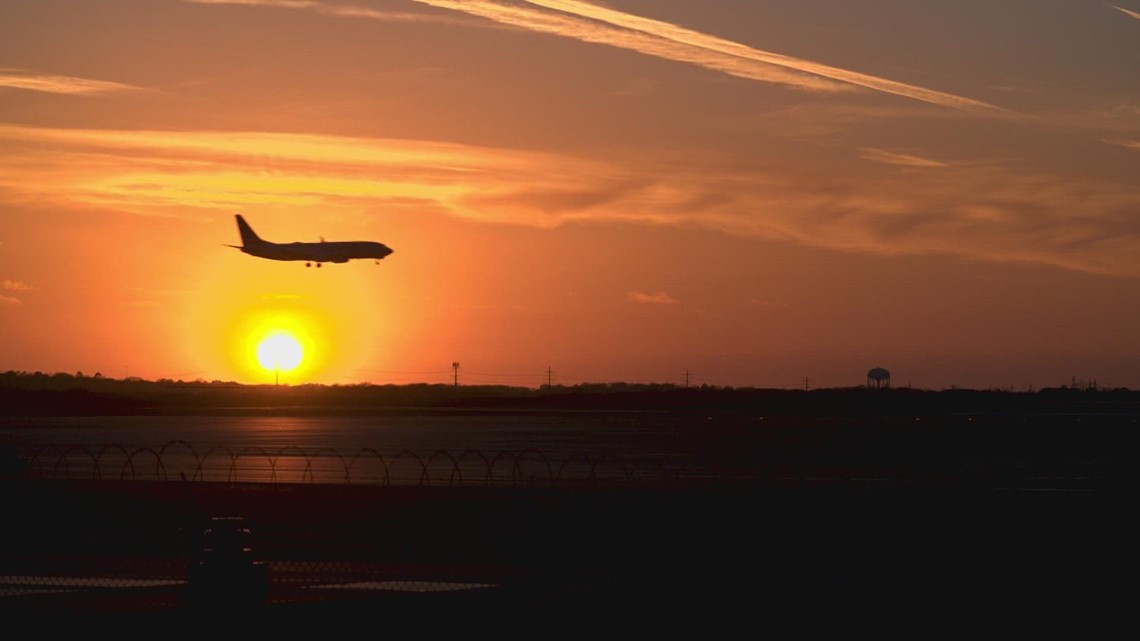 "I mean, it's an adventure," said Kate Dykes, the wife of TCU coach Sonny Dykes. "It's like real life Planes, Trains, and Automobiles, you know."
DALLAS — The TCU Horned Frogs are ready to make history this Saturday, facing off for the first time in the College Football Playoff semifinal at the Fiesta Bowl in Phoenix, Arizona.
But, because of Southwest Airlines' holiday transportation and PR disaster, TCU fans are among the tens of thousands of weary travelers finding it difficult to get to the game in person.
"I am making this trip solo and all in one day," said Jamie Plunkett, a journalist with FrogsToday.com. "I gotta get there. I'm already 24 hours late."
WFAA reached Plunkett by Zoom near the end of his journey. He chose to start at 4:30 a.m. Tuesday and drive the 1,000-plus miles from Dallas to Phoenix after his Southwest Airlines flights were canceled and, like the majority of other Southwest passengers, was told he wouldn't be able to rebook until Dec. 30 at the earliest, the day before the Fiesta Bowl.
"I wasn't able to find any Southwest flights to Phoenix until Friday," he said. "I wasn't going to wait that long because I have a job to do."
And he's not alone. Frog fans on social media and various Frog forums admit they are also deciding to either drive or consider taking Amtrak to Phoenix to get to the game on time.
And, the frustration reaches to the very top of TCU football. Take Kate Dykes for example.
"Everyone's family, Sonny's brother, now they're driving to the game because all their flights are canceled. It's just crazy," she said.
Crazy even for the wife of TCU head football coach Sonny Dykes.
They are already in Phoenix as the team gets ready to face Michigan on Saturday.  But, in a six degrees of separation and misery kind of thing, her brother is Joe Golding, the head men's basketball coach at UTEP.
On Sunday night, stranded at Dallas Love Field, he noticed three University of Pittsburgh football players in the same predicament, unable to get to El Paso for their upcoming appearance in the Sun Bowl against UCLA this Friday.
So, he rented a larger vehicle and drove his own family and the Pitt players the 600-plus miles to far west Texas.
"And when they texted us to say they were driving and they had the players with them, I mean it's an adventure," Kate Dykes said. "It's like real life Planes, Trains, and Automobiles, you know."
A transportation hassle that TCU fans all over the country are navigating right now.
Plunkett, for example, still doesn't know where his luggage is. Southwest told him it would be sent to his final destination of Sky Harbor in Phoenix even though he never made a flight.
"Still haven't met up with that luggage which is why I just stopped at the Tucson outlets to pick up some necessities and a couple pair of jeans and stuff," he said.
"I've flown Southwest my whole life, I'm from the Dallas-Fort Worth area. I'm really loyal to the brand," Plunkett said. "But, you know if flights keep getting canceled like this, if I keep having to drive 15-16 hours a day just to do my job, I think that's going to cost them some business. It's pretty frustrating."
As for Kate Dykes, she said family and friends are in the same situation and planning to make the long drive to Phoenix instead.
"Their flights were canceled so they said you know what, we're not missing it, we're gonna be in purple to cheer, so they just loaded up their cars today and they're all driving. I know we'll have some very excited TCU Horned Frogs by the time they get to the desert in Phoenix."
Road-weary Horned Frogs perhaps, hoping that the frustration on New Year's Eve will belong only to the Michigan Wolverines.