Dallas
Ice in DFW: Freezing rain, icy roads, timeline, everything to know about this week's winter weather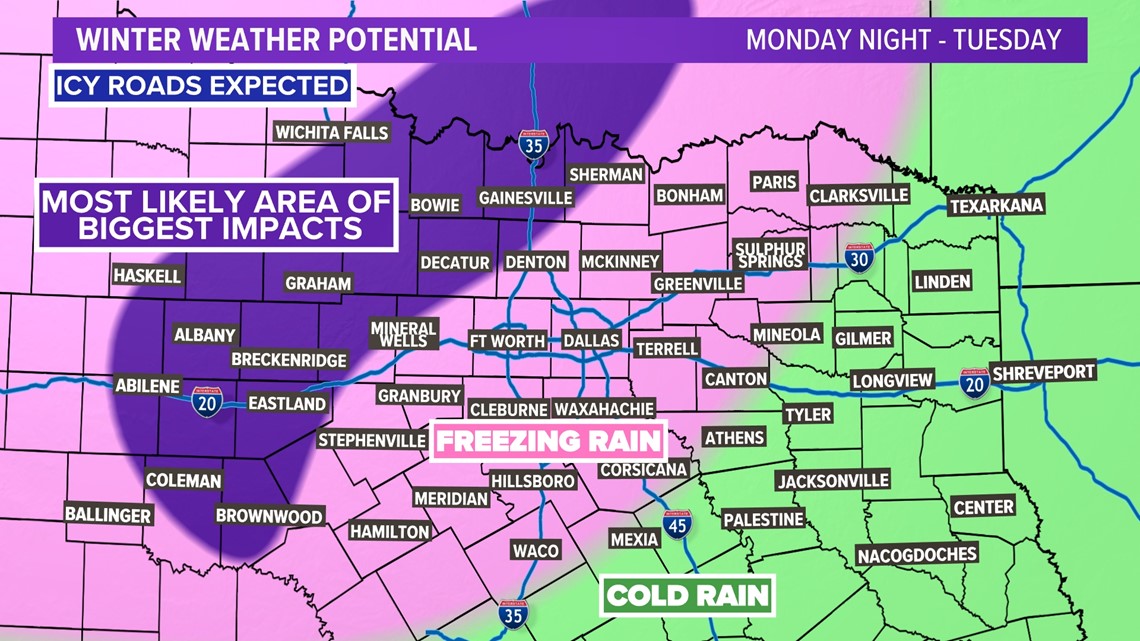 Arctic air has returned to North Texas. Freezing rain and drizzle will be possible in DFW and other parts of the area this week.
DALLAS — After snow in parts of the region last Tuesday, more wintry weather is headed to North Texas, but this looks to be more icy than snowy.
Here's what you need to know to be best prepared ahead of Monday:
Freezing drizzle and freezing rain will be possible for DFW and the majority of North Texas Monday through Wednesday morning
Impacts to roads and travel are possible during that time
A glaze of ice is possible on Monday with perhaps higher totals on Tuesday
Ice chances will all depend on temperatures and where and when temps are at or below freezing. Keep checking back for updates as the forecast will continue to be adjusted!
Winter Storm Watch
A Winter Storm Watch has been issued. Travel could become hazardous especially Monday night through Tuesday as freezing rain falls. Bridges, overpasses, and even heavily traveled roads may become icy during this time. Traveling Tuesday is not recommended.
Freezing rain and freezing drizzle
Rounds of freezing rain and freezing drizzle are likely in North Texas Monday through Wednesday.
While it may not rain constantly during that time, with temps at or below freezing, any rain or drizzle that does fall could turn into icy.
Icy conditions on bridges, overpasses and roads will be possible in places and at times this week.
Monday will feature the potential for a light glaze of ice on elevated surfaces.
Tuesday could be a better chance for widespread icy conditions and higher impacts to travel.
Monday
On-and-off freezing drizzle or light freezing rain is possible during the day. While anything falling from the sky does not look overly heavy, it will be enough to cause a glaze of ice on elevated surfaces. Bridges and overpasses could be slick in places around D-FW to the north and west.
Looks like the best chance to see higher amounts of freezing rain will be late Monday night and through the day on Tuesday. Totals of .10 inches to perhaps even .25 inches look possible in some areas. The area of highest impacts is likely just northwest of the Metroplex, where the coldest temps and better precipitation chances line up.
With temps staying below freezing most of the day, icy roads, bridges, and overpasses are possible. Travel could be tricky in places on Tuesday.
Tuesday night – Wednesday morning
Lingering freezing rain or drizzle will be possible from DFW to the west.
Exactly how widespread rain will be or how heavy is a bit uncertain right now. But with temps staying around or below freezing, icy conditions will continue to be possible.
Wednesday afternoon – night
It will stay cold on Wednesday, but temps will warm above freezing for DFW, so anything falling from the sky should be rain at that point.
However, below freezing and icy conditions may continue across western North Texas.
Another look at the timing
This is important!
This is very complicated and active forecast. What you see will all depend on the temperature. Also the intensity of precipitation in any area will play a role in how much ice you see.
Just stay on your toes this week and we'll continue to update you with the latest!
source
Republic News USA
Republic News USA
Republic News USA
Republic News USA
Republic News USA
Republic News USA
Republic News USA
Republic News USA
Republic News USA
Republic News USA
Republic News USA
Republic News USA
Republic News USA
Republic News USA
Republic News USA
Republic News USA
Republic News USA
Republic News USA
Republic News USA
Republic News USA
Republic News USA
Republic News USA
Republic News USA
Republic News USA
Republic News USA
Republic News USA
Republic News USA
Republic News USA
Republic News USA
Republic News USA
Republic News USA
Republic News USA
Republic News USA
Republic News USA
Republic News USA
Republic News USA
Republic News USA
Republic News USA
Republic News USA
Republic News USA