Dallas
How the University of North Texas is breaking the mold with an all-female esports team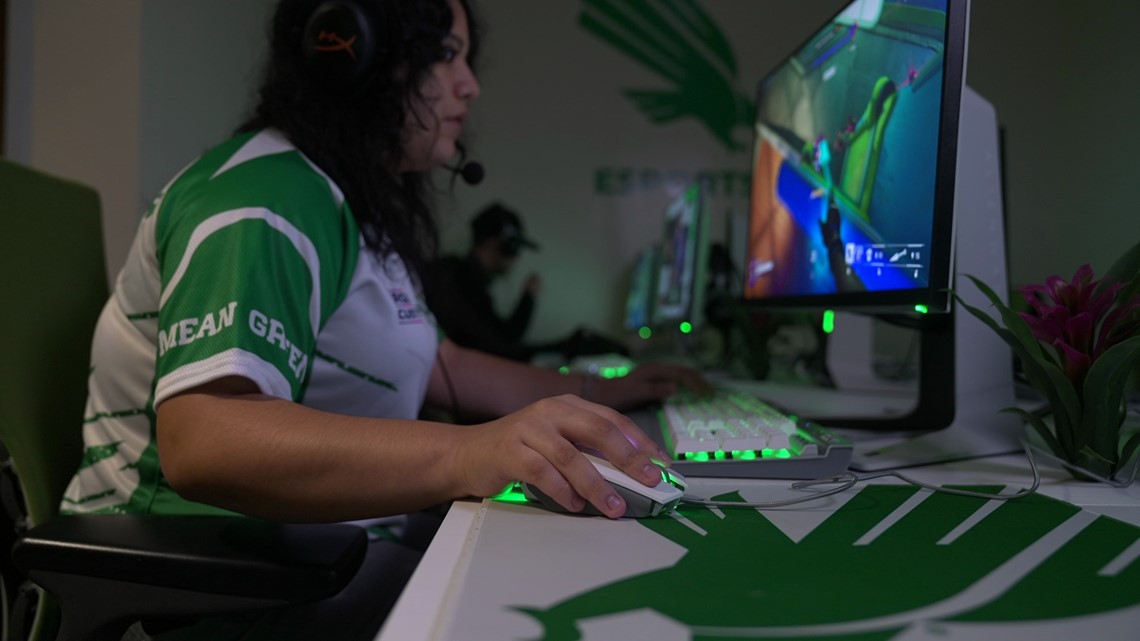 UNT's esports program is starting a women's team for the game VALORANT — and will even be offering scholarships for the five-player squad.
DENTON, Texas — When you look around the University of North Texas' esports facility, you'll find all the essentials: gaming PCs, headsets, mechanical keyboards and even high-end computer monitors.
But, one thing you'll also find is a mostly male program.
In fact, out of the program's 23 players, only two are women. And it's a trend not unique to UNT.
"Honestly, it's a black mark on esports," Dylan Wray, assistant director for UNT Esports, told WFAA.
Wray believes it has to do with the toxic environments women deal with in online games.
"Women face a slew of obstacles, especially when they talk online. They're subject to online bullying, harassment and even the misperception that men are better at playing video games," Wray said.
The online harassment tends to lead women to stop communicating in competitive games, which is a pivotal part of competing, according to Wray.
And if you ask freshman Brenda Cervantes about her experiences playing online, she would wholeheartedly agree with how toxic voice communications can get.
'Very misogynistic'
Cervantes is new to the university's esports program and was drawn to it by her love of gaming while growing up.
She told WFAA she grew up playing video games with her four brothers and even saved up her first paycheck from her first job to buy a computer in 2021.
But, while her love of gaming remains, she said she's had firsthand experience with the darker side of competitive online games.
"I don't think there has ever been a day where I don't get some type of backlash for being a woman," Cervantes told WFAA.
"It's always a very sexist comment, very misogynistic, or a very sexualized comment towards me. It's really disgusting, but I've learned to just cope with it," she added.
Cervantes said the best way she's been able to handle these situations is through muting or blocking players who are making the comments.
But that can only go so far.
"It's very difficult, and it's very common, unfortunately," she said. "[Comments] like 'go back to the kitchen. Why are you playing video games? This is for men, women shouldn't be on this game… the reason we're losing is because a woman is on our team.'"
"Then there are sexualized comments, like 'what's your Snapchat? Would like to get some nudes,'" Cervantes added.
The UNT freshman wants to let the world know that women can play just as well as men at competitive games.
But she, along with Wray and a generous donor, also don't want female gamers to have to just cope with the harassment.
New team
For the first time, the UNT esports program will have a dedicated women's team for the game VALORANT.
"We felt that our program didn't fully represent the University of North Texas. [Women] have a lot of obstacles to overcome to make it to the high competitive level," Wray said.
With the help of a UNT alum, the university is looking to set an example for other colleges with esports programs.
The program partnered with alum and owner of Plano-based RGB CustomPC Holly Millay to set up five scholarships for the new VALORANT team, which will have five players.
"There's a lot of allies that want to make this a reality. It's not just one or two folks, there's a lot of people that want to see this happen," Wray said.
Right now, the program has teams for the games League of Legends, Overwatch and Rocket League.
The plan is to have the VALORANT team up and running by the fall 2023 semester.
"It's time we have better representation in esports, and at the end of the day, we want people to have all the same games [and] have fun doing it," Wray added.
Cervantes said she wants to be part of the change happening in the esports program.
"I hope for younger people… I can just become a beacon of what they can be and should be doing," she said.
It's inspiration that will be welcomed for a new generation of Mean Green gamers.