Dallas
DFW Residents Prepare for Upcoming Winter Weather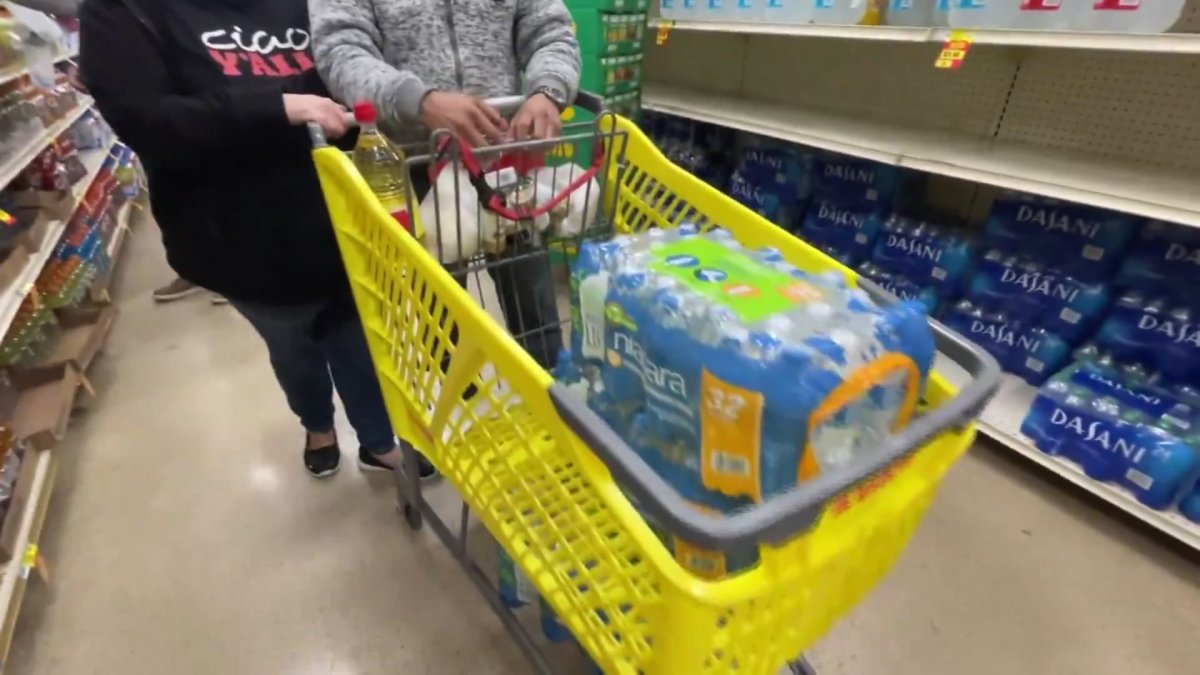 Temperatures began to dip on Sunday, a preview of what's to come at the beginning of the week as freezing rain is expected in the forecast.
Slick roads are one of the major concerns for the next 72 hours, which is why the Texas Department of Transportation, TxDOT, said crews have been treating the roadways with brine, a salt and water mixture, for the last couple of days.
"We pretreated our elevated surfaces, those are the ones that are most vulnerable to icy conditions, they're not insulated by the ground, so that's going to be our focus, and we're going to continue monitoring and treating them," said Val Lopez, a spokesperson for the Fort Worth district of TXDOT.
He said the best solution would be for people to stay off the roadways but said if people do have to drive, to take their time, keep a good distance from other cars be careful on elevated surfaces, like bridges and overpasses.
Meanwhile, some grocery shoppers added to their usual list and decided to buy extra food just in case.
"Because of the winter weather we're having now, got to get prepared, got to have water, a lot of canned food and of course, toiletries," said Cynthia Castillo who was out shopping with her family.
"Once everybody starts feeling the weather, they're going to start running into the stores, you're not going to find anything at all," said Castillo.
Not everyone will have a place to stay warm, which is why the City of Dallas' Office of Homeless Solutions activated its 'Temporary Inclement Weather Shelters,' in preparation for the deteriorating conditions in the days ahead.
"We run from our house to our car, right, but for an individual sleeping outside, especially those individuals 50, 60 years old, this can get fatal," said Pastor Wayne Walker, CEO of OurCalling, a non-profit that helps with homelessness.
He said they have room for 360 people, food for each night, cots set up, medical services and space for pets.
"The goal is to really help people survive, get them off the streets and provide a safe space for the to sleep," he said.
"A lot of the individuals out on their own, they rely on the benevolence of others, so that individual that might have brought you a coat or a blanket, they're staying in their house tonight as well,  so here we got one location ready to even expand if we need to," explained Walker.
A Winter Storm Watch has been issued for North Texas, including Dallas and Fort Worth, from noon on Monday until 9 a.m. on Wednesday.

source
Republic News USA
Republic News USA
Republic News USA
Republic News USA
Republic News USA
Republic News USA
Republic News USA
Republic News USA
Republic News USA
Republic News USA
Republic News USA
Republic News USA
Republic News USA
Republic News USA
Republic News USA
Republic News USA
Republic News USA
Republic News USA
Republic News USA
Republic News USA
Republic News USA
Republic News USA
Republic News USA
Republic News USA
Republic News USA
Republic News USA
Republic News USA
Republic News USA
Republic News USA
Republic News USA
Republic News USA
Republic News USA
Republic News USA
Republic News USA
Republic News USA
Republic News USA
Republic News USA
Republic News USA
Republic News USA
Republic News USA